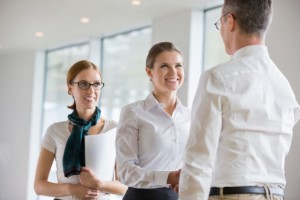 Employee reference checking is often the last step in the hiring process. In some companies, it is seen as a formality, while others view it as an absolute necessity. It can be a touchy subject. It can reveal everything or absolutely nothing. Many employers are often hesitant to provide negative information on former employees for legal reasons. And, often times it's difficult to get information from a candidate's current employer.
Jay Goltz, serial entrepreneur and New York Times Blogger, discusses these and other issues that arise with employee reference checking, but makes an important call to action that they are not a waste of time when done properly.
Goltz makes the point that by the time an employer is checking references, he or she often knows what information is needed and can steer the conversation toward gathering that information. If you don't know the right questions to ask, it's hard to get the maximum benefit from a reference check. That's where HSD Metrics can help.
A strategic and well thought out employee reference checking process can reveal invaluable information about a candidate's potential. HSD Metric's ReferenceRight® Electronic References provide real information that will allow you to make an informed hiring decision.
Here are the top five benefits of utilizing HSD Metrics ReferenceRight® Electronic References for your employee reference checks.
1. You choose the references you want your potential hire to provide. The candidate receives an email and must provide the required information for given contacts.
2. Our process is highly confidential. Prospective employees complete a liability release, which allows their previous supervisors and co-workers to provide totally honest reviews without fear of ramifications.
3. Well-designed and open-ended questions mean honest answers about a candidate's competencies and job performance.
4. It's quick, easy and convenient. Using web-based solutions, your HR department, applicants and references have 24/7 access to information. Instead of spending days making repeated phone calls and tracking down references, contacts can fill out the online questionnaire at their convenience – normally in one to two days.
5. Using HSD Metrics' solutions saves both time and money. It takes time to make reference checks, and references may not always call you back or provide the information you need. Our surveys provide you with valuable information, so you can make the right hire the first time around, instead of going through the process of costly re-hires.
Learn more about the HSD Metrics ReferenceRight® process and contact us today to hear how we can help your business make good, smart hires through better employee reference checking.