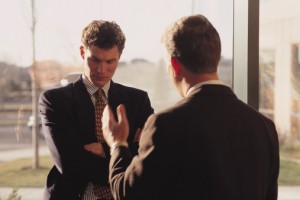 An Actual Comment from an Employee Who Left: "I felt bullied all the time. My manager told me how she thought it was funny that she made a girl cry and quit. She started yelling at me on my second day because she said I was not moving fast enough in the line. She would cuss all the time. Another co-worker cussed me out in front of the patients on my first day. I felt like nice people finish last in this department. They don't like you to ask questions. They seem to have a lot of turnover. I would cover for people as often as possible. But when I needed someone to cover for me it was not an option."
The Solution It's clear this employee's discomfort with how he or she was treated, both by a supervisor and by co-workers, drove him or her to leave. So, we're taking a closer look. How should employees handle verbal abuse at work? The answer? They shouldn't have to. It is essential that Human Resources professionals root out this problem in the workplace.
Workplace bullying (also referred to as office bullying) is defined as repeated, health-harming mistreatment of one or more persons (the targets) by one or more perpetrators. It may take the form of offensive conduct or behavior (including non-verbal) that is threatening, humiliating and intimidating. Or, it may be behavior that interferes with or sabotages work.
Office bullying has increasingly become a highlighted HR issue in the United States and beyond. It has attracted increased attention due to extensive media coverage of children bullying each other in schools over recent years. Men and women in the workforce have begun to realize that bullying isn't just happening among teenagers at school. It's also impacting morale in the workplace. The Workplace Bullying Institute reports that more than a third of U.S. workers have experienced threats, intimidation, harassment, social exclusion or verbal abuse at work, by either a boss or co-worker. Unfortunately, most victims never even report these incidents.
Because these incidents so often go unreported, HR professionals must take the responsibility of proactively monitoring for bullying problems and aggressively addressing them when they do surface. Why is this such an important issue for today's HR professionals? Because this behavior can have repercussions both financial and legal for your company.
Quite often, supervisors, managers and senior managers don't realize the impact that shouting, swearing, and name-calling have on employees. Managers should be expected to act in a professional manner, setting an example for others. Belittling, swearing, and intimidating employees does nothing positive for the organization, and when this behavior is seen by customers or clients, it makes the entire organization look bad. The damage to the company's image, and the costs of employee turnover and low morale, are one reason why HR managers must take workplace bullying seriously.
Second, legal penalties for workplace bullying are likely to grow. Bullying in the workplace is now being seen along the same lines as sexual harassment. In 2001, The Healthy Workplace Bill (HWB) was introduced by David Yamada, a Professor of Law at Suffolk University. It is a model legislation that provides severely bullied employees with a legal claim for their damages. The bill also creates legal incentives for employers to act responsively with regard to bullying behaviors and prevent them from happening. Since then, the Healthy Workplace Bill has been introduced in 23 states, and the likelihood is that once it becomes law in one state, it will begin sweeping our nation, just like the school bullying laws.
HR departments should have procedures in place that employees can follow when they feel bullied. Employees should be made to feel empowered, not helpless, in these situations. As part of their orientation about company procedures and policies, employees should be instructed to take the following steps, if a bullying situation arises in the workplace.
• Address the situation. First, whether the bully is a fellow coworker or a manager, attempt to discuss the problem in a professional way. This does not mean launching a war of words or escalating the confrontation. Employees should explain that the situation is having a negative effect and they will notify a supervisor if it continues.
• Document the situation. When people are distressed, it can be easy to inflate a situation or just forget what exactly was said. Employees should document what has occurred and who has witnessed it.
• Reference the employee handbook. If the company handbook includes an internal grievance system, harassment policy, anti-violence policy, code of conduct or ethics hotline, employees should follow the procedures outlined in these policies.
• Talk with Human Resources. Employees should be encouraged to bring the problem to HR if the attempt to talk over the situation with the bully doesn't help.
At that point, the responsibility falls on HR professionals to take decisive action before the problem leads to unnecessary employee turnover or, even worse, legal action. There are a couple of ways HSD Metrics can help companies with the problem of bullying. The first, and most obvious, is identifying the problem through exit interviews, which is how the example cited above came to light. HSD's ExitRight exit interview process gives your company valuable insight into why employees are leaving, which lets you identify and address problems before they do more damage to productivity and morale and drive up your costs associated with employee turnover.
A recent enhancement on ExitRight's reporting portals allows users to quickly access Red Flag words that are highlighted and categorized.  By clicking the Red Flag word desired, the entire interview contents may also be reviewed.
The other is HSD Metric's 360-Degree Feedback tool, which captures a more complete picture of how an employee functions in your company by including input from a variety of sources, including supervisors, direct reports and peers. This more comprehensive evaluation helps you uncover problems before they reach the breaking point and increase turnover. Contact us today to get started.