Human Resources Outsourcing for Healthcare Organizations
HSD Metrics works with dozens of healthcare organizations across the U.S. to provide comprehensive, benchmarked data updated in real time.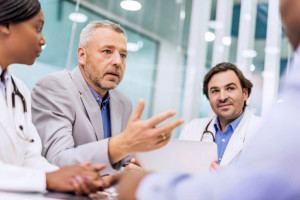 Since its founding more than 20 years ago, HSD Metrics has delivered insight and value to healthcare organizations across the United States. Our reputation for helping hospitals, in-home care and ancillary organizations with their human resources activity has allowed us to grow to serve more than 80 such healthcare systems nationwide. Clients like Mercy Health Partners, Premier Health and the Visiting Nurse Service of New York agree: HSD Metrics can transform the way your organization conducts human resource management.
The longer we've gathered data for our healthcare clients, the more we've come to know about the industry as a whole – which is why our norms for exit interview responses are so valuable to healthcare clients. When your organization incorporates the ExitRight® process to outsource its exit interview process, you can compare and contrast your organization's pervasive "reasons for leaving" against your peers – and understand what high-level actions your need to take to plug holes in your employee retention strategy. HSD Metrics gathers as much data as possible by methodically engaging participants with standardized surveys across as many as three mediums: by phone, by email and by paper.
With the goal to maintain the highest standards for methods and reporting, we listen to the changing needs of our healthcare clients and adjust as needed. While we allow clients the opportunity to tailor interviews to their organization, the core interviews are where clients can extract the most value from HSD Metrics. Designed by experts in the field and refined over the last two decades, these surveys give clients the confidence that they truly are getting the most and best actionable data from interviews with healthcare personnel.
Furthermore, healthcare organizations have particular and valid concerns pertaining to anonymity and security of data. You can rest assured that we've spent years fine tuning the entire experience for clients like you, and created processes that can save you and your organization time and money – freeing up resources to act on the findings.
Take, for instance, the ExitRightNow reporting portal. The easy-to-use online portal gives you 24/7 access to verbatim commentary, data trends and benchmarks. Learning to parse the data requires no extensive training or onboarding, nor is there any software to install. It's rare to find this combination of utility, value and ease-of-use in one program, and this is just one facet of the consultation and support we can offer your healthcare system from day one.
If you would like more information about implementation and cost for your healthcare organization, all we need is an approximation of the number of employees exiting each month. Contact us online or by phone at (800) 295-1863 with your questions or to get started with HSD Metrics today.