Human Resource Outsourcing for Hospitality Businesses
Retain your best employees in an industry high turnover is often expected.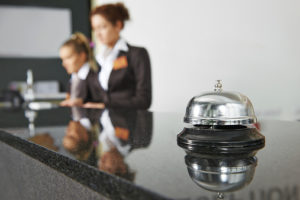 Human resources professionals in hospitality know that finding quality employees is a constant battle, and retaining them is even harder. Wage standards in hotels, casinos and restaurants are increasing and industry competition is at an all-time high – wasting time, money and resources on hiring and rehiring isn't an option.
With HR teams already spread thin, getting to the bottom of your retention problems may not be top of mind. Partnering with HSD Metrics, however, allows companies to get both a thorough look into their retention trends, and outsource the exit interviewing process. Leveraging more than 20 years of experience, we pair expert-designed surveys with technology to help our customers move toward higher-retention work cultures.
ExitRight®
Turnover rates in the hospitality sector continue to climb. Understanding the root causes of industry turnover, and how your operations can effectively counter the trend is what exit interviews are designed to help you discover. The ExitRight® interview process engages departing employees with comprehensive exit interviews via mail, email or phone that yield candid responses by ensuring anonymity. Clients can tailor the interviews to their specific organization to get the most actionable data from survey responses.
By outsourcing your exit interview process to HSD Metrics, your HR department will have 24/7 access to the ExitRightNow web portal, which displays real time, benchmarked data in a comprehensive, easy-to-use format. Our reports analyze and aggregate trends, themes, demographics and other potential causes for turnover and then organize them into exportable files on a routine schedule that you choose. We also notify you if sensitive subject matter, like harassment on illegal activity, is referenced.
Understanding why your employees quit gives you the opportunity to make changes in your company while improving retention, ultimately saving you money. No matter the size of your organization, the HSD Metrics ExitRight exit interview process equips you with the knowledge and resources you need to face your top employee issues.
As you retain happy employees, you create happy customers. With HSD Metrics, we know that to be successful in the hospitality industry you need a strong team environment. We are on your team and our goal is to help you reach yours. Call us today at (800) 295-1863 or contact us online to find out how you can start confronting your employee retention issues today.