Human Resources Outsourcing for Manufacturing Companies
HSD Metrics equips manufacturers with tools that provide clarity, organization and insight into their company.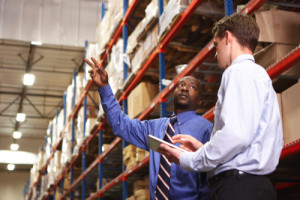 Since starting our business more than 20 years ago, HSD Metrics has been helping manufacturers measure the health of their organizations to achieve high performance and engagement. With the depth of our manufacturing industry experience, we can help your human resources department monitor morale, find causes of turnover and unearth workforce problems that could be reducing productivity and efficiency.
Some of our first clients were manufacturers, and today we continue to service some of the world's largest, such as ABB Group, A.O. Smith Corporation and Tyco International. With decades of manufacturing industry experience, we understand the goals of manufacturing organizations and take pride in delivering comprehensive data and knowledge that can help to answer your company's biggest HR questions. We can help you streamline your processes, understand why employees leave and do more to retain your best talent.
How ExitRight® Makes Manufacturers Work Smarter and More Efficiently
By outsourcing exit interviews through the ExitRight® interview process, your company will benefit from expert-designed, anonymous and secure surveys that lead to candid, honest answers. Additionally, the ExitRight outsourcing process helps you increase management accountability, monitor sensitive subject matter and gather actionable, benchmarked data.
Exit interviews are critical in the manufacturing industry, as they provide employees a final platform to disclose any information related to on-site safety and culture issues. Collecting the most interviews possible is paramount. Exiting employees can complete the ExitRight survey by web, phone or mail, which gives you the most opportunities to get survey completions. Furthermore, our survey design experts have spent years developing and honing a survey that gets to the heart of these issues and more, so you get complete and unfettered information.
HSD clients can access the ExitRight portal from anywhere with an internet connection to view respondents' verbatim input and monitor trends over time. Customers can also easily monitor for red flag words such as "injury," "harassment" or "unsafe work conditions," triggering immediate notification when these topics are mentioned. Furthermore, we believe in providing analytics you'll know how to use – all data reports and filterable demographics are delivered in easy-to-understand formats.
Feedback and Opportunity for Every Phase of the Employee Lifecycle
HSD Metrics can also provide support with onboarding procedures and help your HR department save time by incorporating automated processes, such as SurveyRight®, ReferenceRight®, new hire feedback and 360° feedback.
At HSD, your needs are our priorities; we think of ourselves as your partners in bringing a higher level of capability to your company. Get started today with no extensive training session, long-term contracts or software purchases. Call (800) 295-1863, or contact HSD Metrics online for a more efficient and productive way to effect change in your manufacturing organization.